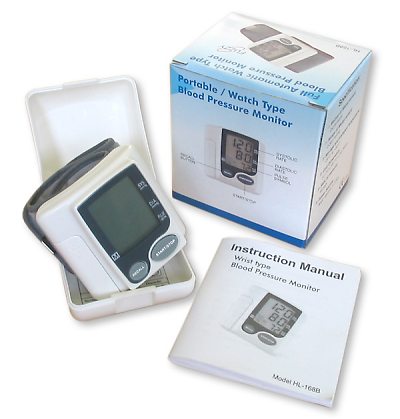 NZ$ 54.90 + NZ$5 shipping cost
HL-168B automatic Blood Pressure Monitor
12 months warranty on defects in materials & workmanship

Model no: 168B ( Watch Type)
Method of measurement: Oscillometric
Range of measurement: Pressure 0-300 mmHg, pulse 40-200 beats/minute.
Accuracy: Pressure +/- 3 mmHg, Pulse +/-5%
Fuzzy Pressure: Automatic Re-inflation pump system
Inflation: Automatic inflation (Air Pump)
Deflation of Pressure: Automatic air release control valve
Exhaust: Automatic exhaust valve
Display: Liquid Crystal Digital Display.
Sets of memory: 48-set
Cuff size: Wrist circumference approx. 135-195 mm
Operating Temperature: +10 C to + 40C , 30-85% RH
Storage Temperature: -20 C to + 50 C , 10-95% RH
Power supply: 2x 'AAA' (3.0V) provided !
Battery Life: approx. 100 measurements
Accessories: Carrying case, instruction manual (Engl.)
2 pcs "AAA" battery.
Automatic & fast accurate measurement
*Easy, safe and Simple Operation
*Largest display read out
*Unit Dimension: 70 x 72 x 26 mm
*Unit Weight: Approx. 265g
*Packing : 1pc/color box
---
Approvals:
CE APPROVAL for Medical Devices, CE Number 0344 (stated on product), CLASS II A Product
TÜV Germany Approval Certificate
ISO 9002 Certificate for manufacturer
US FDA - Department of Health & Human Services, Medicinal Devices

For information on our MEDSAFE New Zealand listing for medical devices, please call us on: 0800 33 33 22.

For more detailed information about the device please check out the user manual.


Make a secure Online Order for your Blood Pressure Monitor now.