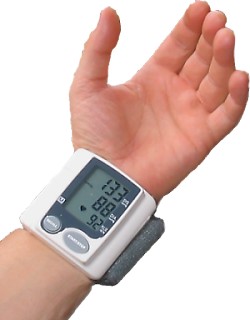 Make a secure Online Order for your Blood Pressure Monitor now.

HL-168B automatic Blood Pressure Monitor
• Blood Pressure Monitor measures blood pressure & pulse
• Automatic inflation pump & release valve
• Extra-large, clear, multi-feature LCD display (systolic, diastolic + pulse)
• Accurate, simple, fast and safe
• 48-set memory function
• Easy-to-follow instruction manual
• FREE chart to keep your records
• 2 x AAA batteries included
• 12 months warranty on defects in materials & workmanship
• only NZ$ 54.90 + shipping.

Why is it useful to measure blood pressure at home ?

Having one's blood pressure measured by a doctor in a hospital or a clinic, and a group health checks, tend to stimulate nervousness in the subject and may even create high blood pressure. Also varies blood pressure in accordance with a variety of conditions and so judgment is not possible on the basis of a single measurement.

The blood pressure measured first thing in the morning after getting up, before taking any food and with the subject still, is known as the fundamental blood pressure. In practice it is rather difficult to record the fundamental blood pressure, but to come as near as possible to measuring the blood pressure in an environment that is close to this, is why it is useful to take the measurement at home.

Our Wrist Blood Pressure Monitors gives you an accurate and hassle free blood pressure measurement at the time of your convenience.
The HL-168B automatic Blood Pressure Monitor is easy, save and simple to operate and has CE, TÜV and US FDA approval.

You are welcome to download and print a form for charting your blood pressure.